June 22, 2015: What is MST?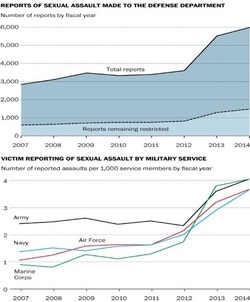 According to Veteran Affairs,
military sexual trauma
(MST) refers to the sexual assault or "repeated, threatening sexual harassment" that veterans experienced during their time on duty. Though 1 in 100 men admit to experiencing MST, the terrifying number rests with the women; where 1 in 4 reveal that they experience MST. Take note, also, to those who are not willing to reveal their experiences due to fear of consequences like job loss or lack of support.
So what problems are associated with MST? The Department of Veteran Affairs explains that MST includes "
disturbing memories or nightmares, difficulty feeling safe, feelings of depression or numbness, problems with alcohol or other drugs, feeling isolate from other people, problems with anger or irritability, problems with sleep, and/or physical health problems."
Unfortunately, even with these experiences and suffering trauma, a large amount of female veteran still struggle to receive proper health-care. A recently published Washington Post article, "Female veterans battling PTSD from sexual trauma fight for redress", expressed the concern that whenever women would visit VA centers, there is already an assumption that they are waiting for their husbands or that they are lost—not initially asking if their visit is regarding a treatment of their own.
Many facilities make it difficult for veterans experiencing MST to receive health care due to the limited amount of evidence or paperwork they can provide. Here at Project Caged Birds, we are building an organization that can provide services to our veterans. Though there seem to be a lack of resources when it comes to MST, Project Caged Birds can help our heroes find their way to recovery. We highlight once of the resources that strive to help veterans experiencing MST. The Department of Veteran Affairs assures that every Veterans Affairs' facility has an MST Coordinator who is the contact person for issues related to military sexual trauma. To find your local center, visit this page here:
http://1.usa.gov/19GuFIK
.
You will win your second battle. You will find your way home.
Resources:
1.
http://www.mentalhealth.va.gov/msthome.asp
2.
http://wapo.st/1Ev9Alk